The mere mention of al Qaeda conjures images of an efficient terrorist network guided by a powerful criminal mastermind. Yet al Qaeda is more lethal as an ideology than as an organization. "Al Qaedaism" will continue to attract supporters in the years to come—whether Osama bin Laden is around to lead them or not.


"Al Qaeda Is a Global Terrorist Organization"



SIDEBAR:

Between Osama's Lines
No. It is less an organization than an ideology. The Arabic word qaeda can be translated as a "base of operation" or "foundation," or alternatively as a "precept" or "method." Islamic militants always understood the term in the latter sense. In 1987, Abdullah Azzam, the leading ideologue for modern Sunni Muslim radical activists, called for al-qaeda al-sulbah (a vanguard of the strong). He envisaged men who, acting independently, would set an example for the rest of the Islamic world and thus galvanize the umma (global community of believers) against its oppressors. It was the FBI—during its investigation of the 1998 U.S. Embassy bombings in East Africa—which dubbed the loosely linked group of activists that Osama bin Laden and his aides had formed as "al Qaeda." This decision was partly due to institutional conservatism and partly because the FBI had to apply conventional antiterrorism laws to an adversary that was in no sense a traditional terrorist or criminal organization.
Although bin Laden and his partners were able to create a structure in Afghanistan that attracted new recruits and forged links among preexisting Islamic militant groups, they never created a coherent terrorist network in the way commonly conceived. Instead, al Qaeda functioned like a venture capital firm—providing funding, contacts, and expert advice to many different militant groups and individuals from all over the Islamic world.
Today, the structure that was built in Afghanistan has been destroyed, and bin Laden and his associates have scattered or been arrested or killed. There is no longer a central hub for Islamic militancy. But the al Qaeda worldview, or "al Qaedaism," is growing stronger every day. This radical internationalist ideology—sustained by anti-Western, anti-Zionist, and anti-Semitic rhetoric—has adherents among many individuals and groups, few of whom are currently linked in any substantial way to bin Laden or those around him. They merely follow his precepts, models, and methods. They act in the style of al Qaeda, but they are only part of al Qaeda in the very loosest sense. That's why Israeli intelligence services now prefer the term "jihadi international" instead of "al Qaeda."
"Capturing or Killing Bin Laden Will Deal a Severe Blow to Al Qaeda"
Wrong. Even for militants with identifiable ties to bin Laden, the death of the "sheik" will make little difference in their ability to recruit people. U.S. Secretary of Defense Donald Rumsfeld recently acknowledged as much when he questioned in an internal Pentagon memo whether it was possible to kill militants faster than radical clerics and religious schools could create them. In practical terms, bin Laden now has only a very limited ability to commission acts of terror, and his involvement is restricted to the broad strategic direction of largely autonomous cells and groups. Most intelligence analysts now consider him largely peripheral.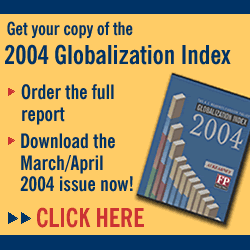 This turn of events should surprise no one. Islamic militancy predates bin Laden's activities. He was barely involved in the Islamic violence of the early 1990s in Algeria, Egypt, Bosnia, and Kashmir. His links to the 1993 World Trade Center attack were tangential. There were no al Qaeda training camps during the early 1990s, although camps run by other groups churned out thousands of highly trained fanatics. Even when bin Laden was based in Afghanistan in the late 1990s, it was often Islamic groups and individuals who sought him out for help in finding resources for preconceived attacks, not vice versa. These days, Islamic groups can go to other individuals, such as Jordanian activist Abu Musab al-Zarqawi, who set up his al Tauhid group in competition with bin Laden (rather than, as is frequently claimed, in alliance with him) to obtain funds, expertise, or other logistical assistance.
Bin Laden still plays a significant role in the movement as a propagandist who effectively exploits modern mass communications. It is likely that the United States will eventually apprehend bin Laden and that this demonstration of U.S. power will demoralize many militants. However, much depends on the manner in which he is captured or killed. If, like deposed Iraqi President Saddam Hussein, he surrenders without a fight, which is very unlikely, many followers will be deeply disillusioned. If he achieves martyrdom in a way that his cohorts can spin as heroic, he will be an inspiration for generations to come. Either way, bin Laden's removal from the scene will not stop Islamic militancy.
"The Militants Seek to Destroy the West so They Can Impose a Global Islamic State"
False. Islamic militants' main objective is not conquest, but to beat back what they perceive as an aggressive West that is supposedly trying to complete the project begun during the Crusades and colonial periods of denigrating, dividing, and humiliating Islam. The militants' secondary goal is the establishment of the caliphate, or single Islamic state, in the lands roughly corresponding to the furthest extent of the Islamic empire of the late first and early second centuries. Today, this state would encompass the Middle East, the Maghreb (North Africa bordering the Mediterranean), Andalusia in southern Spain, Central Asia, parts of the Balkans, and possibly some Islamic territories in the Far East. Precisely how this utopian caliphate would function is vague. The militants believe that if all Muslims act according to a literal interpretation of the Islamic holy texts, an almost mystical transformation to a just and perfect society will follow.