Osama Bin Laden had four women and rented more than 15 houses for himself and his followers in Al-Riyadh City, a rich suburb of Khartoum. The houses were located on the same street and were guarded by armed groups of al-Qa'ida organization, as well as a number of Sudanese security men. Bin Laden survived more than one assassination attempt. Most dangerous of them was the one plotted by Al-Khulayfi, a member of Al-Takfir and Al-Hijrah [the Hegira, the emigration of Prophet Muhammad from Mecca to Medina in 622 A.D]. Al-Khulayfi was supposed to begin the onslaught by killing Bin Laden and then attack prayers at Ansar Al-Sunnah Mosque in Al-Thawrah, suburb in Um Durman city. However, he began by opening fire on prayers, killing a number of people. He then fled in a vehicle and headed to Bin Laden's home, but policemen chased him and shot and wounded him before he was able to attack Bin Laden's home. Al-Khulayfi and several policemen exchanged fire near Bin Laden's house, which was hit, but Bin Laden was not at home then.
Before leaving Sudan, Bin Laden sold off all his enterprises to Sudanese traders at very low prices. He had nothing left in Sudan when he left the country in 1997. His neighbors and those who worked for him--including the gardener and the cook--spoke well of him. They said he was a kind and humble man who lived a very simple life. They said he did not talk much and used to visit his Sudanese neighbors on religious holidays and various occasions. They added that Bin Laden used to walk to the mosque near his house to pray there five times a day without any bodyguards in sight.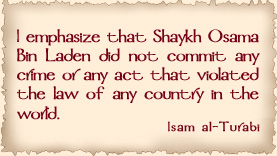 Isam Hasan al-Turabi--Shaykh Hasan Abdallah al-Turabi's son--and Shaykh Osama Bin Laden had a common interest in horse breeding and horse riding. Isam al-Turabi was a professional horse rider and he owned a huge stable in a Khartoum suburb where he kept the best well-bred Arabian horses. Moreover, he was one of the leaders of the Cavaliers Federation in Sudan and his horses would always win trophies and prizes. Shaykh Osama Bin Laden and Isam al-Turabi shared all these characteristics and they both became very close friends. Isam al-Turabi, an enlightened man and an engineer, met Bin Laden at his father's house when both Shaykh Hasan al-Turabi's sons were living with their father.
Bin Laden once came to visit Shaykh Hasan al-Turabi and he met Isam, who said he did not know much about Shaykh Osama Bin Laden then, especially that it was the first time he met him. Unlike many Saudis and people from the Gulf, Isam al-Turabi was a thin man and did not have a fair skin. He was just like Bin Laden. It seemed Bin Laden knew that Isam was interested in horses, so he asked him about horses and horse breeding in Sudan. He asked Isam al-Turabi to buy well-bred Arabian horses for him.
Two days later, a man called Sayfuddin, an aide of Bin Laden, telephoned Isam al-Turabi, who said he bought five Arabian horses for Bin Laden. Isam al-Turabi added, "I met Shaykh Osama many times afterward and I found out he was a young man and a believer who manifested many of Islam's true meanings." Isam said he put Shaykh Osama's horses in a special stable because he did not then own a place to keep his five horses. Bin Laden would often check his horses there and ride them. He would walk the horses with Isam outside Khartoum for many hours without being known by anybody because he was not popular in Sudan at that time and did not begin his huge investments yet.
Isam said, "I used to invite him to watch horse racing in Khartoum held by the Sudanese Cavaliers Federation since many Sudanese were interested in this hobby. Bin Laden used to ban listening to music. When music played at the horseracing stadium in Khartoum, he used to close his ears with his fingers. We used to respect his opinion regarding this issue and leave with him whenever he walked away once the music began. I respected his pure faith in God.
Isam was constantly in touch with Bin Laden. He used to visit him at home and at his company's headquarters. Their relationship developed and involved hobbies and joint meetings. Shaykh Osama once told Isam al-Turabi he chose Sudan because it was a Muslim country and a profitable place for his trade. Isam al-Turabi said, "my father, Shaykh Hasan al-Turabi, was against Shaykh Osama Bin Laden's departure from Sudan."
Isam accused the Sudanese government of plotting his departure with the United States. He said, "there were parties in the government that arranged his departure with the United States. These parties are against my father's trends." He added, "I emphasize that Shaykh Osama Bin Laden did not commit any crime or any act that violated the law of any country in the world." He was silent for a while but suddenly said, "Bin Laden told me he received military training in various kinds of fighting." He told him the Americans were the ones who basically helped him learn this. Osama Bin Laden believed the Americans were idolaters that became the sole power in the world following what happened to the Soviet Union.
Osama Bin Laden was a calm and serious man. His words, which spoke of fiqh [jurisprudence in Islam], manifested that he believed his acts would become a reality.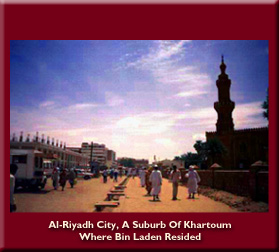 Isam al-Turabi added, "one of the reasons that prompted Bin Laden to stop riding horses and attending races was an attempt to assassinate him by one of the extremist Islamic groups from outside Sudan and an attempt to assassinate his son Abdallah in the Arab market area in the center of Khartoum. Bin Laden gave up his social relations because he was sure some people were seeking to kill him. Afterward, I did not get to see him very often and I was very sad when I learned he was forced to leave Sudan. "
"I met Al-Khulayfi, who attempted to assassinate Bin Laden in Khartoum. I met him when he was arrested. He was shot in the arm and leg. After talking to him, I concluded the man was deranged. He suffered from mental and psychological imbalance. He thought he was absolutely doing the right thing because those who instigated him to do it made him believe that Islam had enemies from within, such as Ansar al-Sunnah [proponents of the Prophet's sayings and doings], whose aim was to undermine and destroy the Islamic faith. I have not met Bin Laden following this incident because he became less interested in such things as horses."

Mahjub al-Aradi, a Sudanese, disclosed details to "Al-Quds al-Arabi" about the life of Saudi oppositionist and al-Qa'ida leader Osama Bin Laden during his stay in Sudan. Al-Aradi worked as a gardener for Bin Laden. He said, "Bin Laden used to live in a two-story house in Al-Riyad suburb, east of Khartoum, and would receive his guests at another house similar to the first one. He had an office on King Nimr Street."
He said Bin Laden had many offices, including some in Kasla city east of Sudan. Al-Aradi, 74 years old, worked for Osama Bin Laden for four years up to the moment he left Sudan. He used to earn a salary of 200,000 Sudanese pounds, in addition to the tips he used to have from Osama Bin Laden's guests. Al-Aradi said, "there were many guests who used to visit Bin Laden during the daytime, including Egyptian and Yemeni men wearing the traditional long dress. Very often these people would bring their families, many of whom left with Bin Laden to Afghanistan."
Al-Aradi said Bin Laden had four wives, four sons--Abdallah, Abd-al-Rahman, Ahmad, and Muhammad, and a very young daughter. His son Abdallah went to Saudi Arabia, where he married his cousin. Osama Bin Laden made his three other sons leave school to attend lessons on the recital of the Koran by two teachers from West Sudan.
Regarding his activity in Khartoum, Al-Aradi said Osama Bin Laden was always escorted by special guards, in addition to guards in front of his house who would sit in a ground-level place where they could clearly see others. The guards carried machine guns to protect Bin Laden's homes and would accompany Bin Laden on his trips outside Khartoum.
Every day, Bin Laden would go to the office and then to his guesthouse where he would stay until eight or nine o'clock in the evening after which he would return to his houses. He used to like farming and he contributed to planting vast areas in Delta al-Qash in Kasla with watermelon. This helped decrease the price of watermelon. He planted two kinds of trees in his house, including a willow tree he brought from outside Sudan, and succeeded in growing it. He was also interested in training police dogs.
Al-Aradi said Bin Laden used to eat a little amount of food and would eat the leftovers from guests because he thought this was a blessing taught by the Prophet. He used to have two men who prepared food, but would not serve it to the guests, who would help themselves at the kitchen. There was a special vehicle where food was prepared. Bin Laden used to dress simply. He often wore a long dress and 57 Centimetre long headdress and shoes open at the back.
The gardener was unaware of the real reason that prompted Bin Laden to come to Sudan. However, he believed Bin Laden came because some people abroad asked him to come to Sudan and promised to provide him with the necessary protection. When the Sudanese Government asked him to leave the country, he said he would go to spare the government any embarrassment.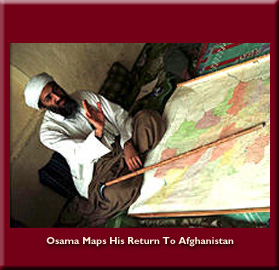 Al-Aradi pointed out that he saw Bin Laden "the moment he left Sudan. His eyes spoke of a long-term planning for the future. When I watched him reading a statement following the recent events, I noticed he had more gray hair on his beard than he used to have when he was in Sudan."


1
2