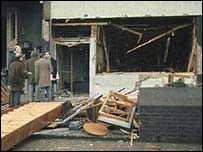 Two pubs were destroyed in the 1974 bombings
The 1974 Birmingham pub bombings were wrong and should not have happened, Sinn Fein has admitted.
A party spokesman said on Thursday that if there were issues relating to the IRA still to be addressed over the bombings, then this should happen.
The statement comes days before the 30th anniversary of the two bombings which killed 21 people and injured 182.
The BBC's Ireland correspondent Denis Murray said the statement "did not say in so many words that the IRA will apologise but it effectively confirms that this will happen".
On 21 November, 1974, the Mulberry Bush pub at the foot of the city's Rotunda tower and the nearby Tavern in the Town, were both destroyed within minutes of each other.
Six men imprisoned for the attacks had their convictions overturned by the Court of Appeal in March 1991.
The Birmingham Six - Hugh Callaghan, Patrick Hill, Gerard Hunter, Richard McIlkenny, William Power and John Walker - were sentenced to life imprisonment in 1975.
Apologies
The IRA has apologised in recent years for a number of murders it carried out in the 1970s.
In October, it issued a "statement of regret" for killing 15-year-old Bernard Teggart in Belfast in 1973.
Last year, the IRA apologised for the grief caused to the families of the nine so-called Disappeared who were murdered and secretly buried during the 1970s.
In July 2002, the IRA apologised to all civilian victims of its campaign of violence.
In a statement in the republican newspaper An Phoblacht (Republican News), it also offered "sincere apologies" to the families of those killed on Bloody Friday, when nine people were killed as 21 bombs exploded across Belfast on 21 July 1972.